Torna indietro
Shiraz Lane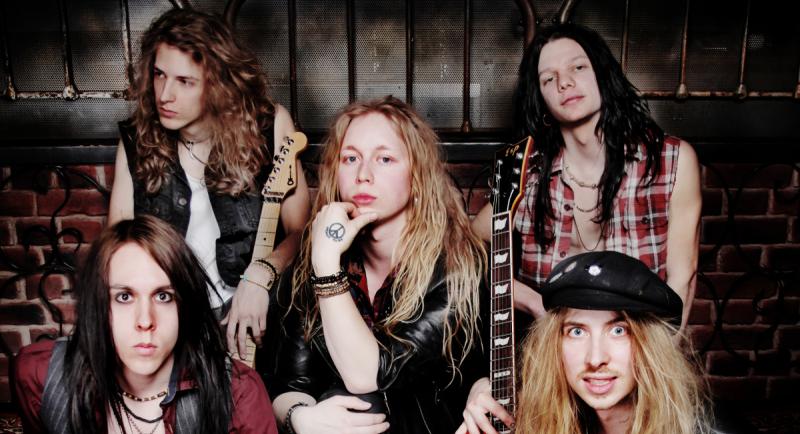 So for the uninitiated, what should one know about Shiraz Lane?
HK: We're five hippies that love life and music. This is our way of changing the world, because we do believe we can make a difference, and this is also reflected in our lyrics.
JA: Or simply put, a rock band from Vantaa, Finland.

How old are you guys?
HK: Our average age is about 22, with the oldest one born in '90 and the youngest in '94.

It's cool how younger bands are starting to rise to fame.
HK: Yeah, it feels like it's about time. Think ahead 20 years, all the legends will be dead! Who will step up to fill the hole? Judas Priest are still great and Rob Halford is a freak of nature, but for how long? Maybe the only band that will tour forever is The Rolling Stones...

Why did you choose this style of music to express yourselves?
HK: I feel like the music chose us. We just make music we want to listen to ourselves, and since not a lot of bands play this anymore so someone has to do it. There is a listener base for this kind of stuff, and I feel like Hard Rock is making a comeback.
JA: There's room in this band for so many different music tastes and the end result is a mixture of those.
HK: Ana listens to Bonham, classic Zeppelin and Chad Smith from Red Hot Chili Peppers which I also really enjoy, you can hear the rhythm influences in our music.
JA: I've been hanging out in Tuska a lot, I like the heavier stuff. On the bass I play like Duff McKagan (Guns N' Roses) but with a heavier sound.
HK: I just scream like there's no tomorrow. I've been told by Kotipelto (Stratovarius) amongst others that if you're gonna do something then do it to the max, like way over the top. Cos I'm a dude who can sing really high, and that's not normal. One of my greatest idols, Michael Jackson, now there was a guy who was weird, but goddamnit was he a genius!
JA: It's the out of the ordinary that will go down in history.
HK: We've been called glam and hair metal and 80's rock, but we don't just do one genre, but make music that sounds like us. We're not afraid to do things differently. Like for example our concept EP. Who still makes concept EPs? We do!
JA: Without just sticking to familiar patterns.
HK: Yeah, otherwise you'll just have an album that just sounds the same. It works for some, but absolutely not for us.
JA: I'm sure we pissed off a hell of a lot of people when we took part and won the band battle in Wacken. We're more of a rock band than traditional metal. But it's good that even Wacken has some variety.
HK: It doesn't matter if we're more hard rock than metal. We'll rock your asses off, that's what we do. Cos if you don't believe in yourself then no one else will.

You've got an EP out, when is your debut full-length coming?
HK: It's absolutely coming, but we don't know when yet. We're still working on the material.
JA: It's fucking crazy we're playing in Tuska with only an EP out. Not too shitty a start.
HK: Feeling blessed.
JA: We have so many gigs coming up. It's gonna be interesting to see the reactions.
HK: Let the hate come!
JA: All the coolest things in music and life in general are ones you either love or hate.
HK: There's enough mediocre stuff already.
JA: We have ten gigs this summer, over half of which are on festivals, which again is quite something for a band who only has a self-published EP out.
HK: And in September were going on tour with Santa Cruz in Finland with about 15 gigs. End of the year is reserved for making the album material.

What's the story behind the name Shiraz Lane?
HK: Shiraz is a type of grape used for red wine. I personally enjoy red wine a lot, playing the piano while drinking wine is such a classic! The guys are drinking beer and I'm just sipping wine. But we were just drinking some Shiraz wine and thinking about the different names for the band and started thinking "It's all about the journey, not the destination" and as long as you're on that journey you might as well enjoy some wine. But if the name is a bit difficult then it's easier to remember.
JA: And it sounds good!

Let's talk more about your EP, Be the Slave or Be the Change. HK: Joel did the cover art, and I really appreciate a certain simplicity. Cover art is a lost art and lyrics too are nowadays made too easily, and just thinking about copying what everyone else is doing, and fuck that! Nowadays you can buy a single song mp3 for a euro, and that has really damaged the album as a complete whole.
JA: That's also partly why we had a concept running thru the EP. We're going for the whole.
HK: The songs might be good out of the context, but work best as a whole. I don't know how people nowadays make albums, but I think they used to think of the entire album more and now they just focus on individual songs in some order and throw a bonus track or something at the end.

What kind of music consumers are you?
HK: I used to listen to CDs, and then later rip the CDs to my mp3-player, but nowadays there's Spotify and alike. Listening to music has been made so easy, it might not serve everyone but at least it's easy.
JA: Nowadays when I buy an album it has to be a whole.
HK: If I like a band then I'll support them and buy the album. Because I want the album, the feeling is completely different. You can read the lyrics and the thanks and all.
JA: When you put the record on for the first time and just flick thru the booklet, that's the best!

But do you think physical media like CDs and vinyl will survive? HK: Vinyl has been making a comeback for a while now. In music and fashion etc. we keep repeating the same cycles. If you go back far enough something's cool again and suddenly it sucks. I personally await the comeback of the cassette.
JA: That'd be so cool.
HK: It doesn't sound good, but I still dig it! But I'm sure the cycles will keep repeating, that's just how it is. But if there's no physical media then how will people appreciate the album art?
JA: There's the 150x150 pixel blurry pic in Spotify.
HK: What will happen to the album? Nowadays people just put out EPs because it's easier to sell. I like to think of our EP as a sampler of what's to come. But the times are changing, you can become famous on Instagram and have your first gig in a stadium just lip-syncing songs from an album someone else made for you. Like, what's the point?

Where did it all get going properly for Shiraz Lane? HK: It was when Joel here joined the band. We played like five years as a four-piece, we were real tight, like brothers. We tried getting Joel to join the band earlier, but he was still having too much fun with his old band. Then he saw us play live and then he suddenly wanted to come test it out. We actually made a house call and just showed up on his door and told him we're gonna have a few beers and talk.
JA: If anyone says that life won't come and pick you up from home then I'm living proof that that's bullshit!
HK: Then things got going, we had a gig in Bar Bäkkäri less than two weeks from the first rehearsal with everyone there. Then we did the video for Out There Somewhere. Joel was in charge of that as he's our jack of all trades, we made the video ourselves and it looks like it. Not in a crappy way, but by staying true to our vision.
JA: You learn by doing. Soon we'll have a video for every song on the EP. Three done, two to go. 45 000 views in only 8 months, that's a lot for a small band like us.
HK: Now we just gotta keep working hard, cos that's what we do.

Joel, was it hard getting into a band that had been so tight for years? HK: We all knew each other since long.
JA: Not at all, it felt fucking great.
HK: We were just ourselves from the get go, making him feel like a part of the team. It was great having all five of us working towards a common goal.

The most important question to close the interview, if you guys were fruit, what fruit would you be? HK: Banana!
JA: A banana, or a water melon...
HK: No, you're a can of Coca Cola! Tastes good, it's got sugar, it's good for you!
Intervista di Markus Karppinen